MSR Marketplace items are not available for shipping - only pick-up.
Due to compliance regulations in the state of Oregon, we are only able to ship (2) cases of wine or equivalent volume per individual per month.
For personal assistance placing larger orders to ship to Oregon, please contact the winery at 503.662.5600.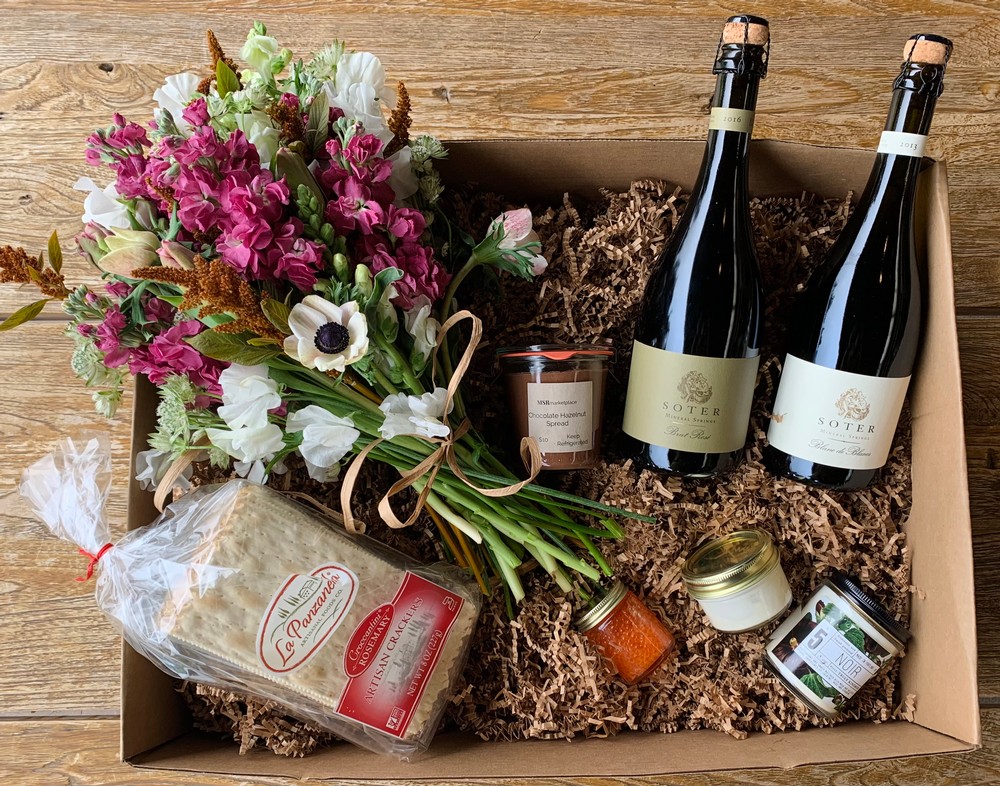 Sparkling Wine Gift Box
Limited Quantities, don't wait to purchase!
This gift box is perfect for the sparkling wine lover in your life. We are offering complimentary local home delivery on all boxes on Saturday, February 13th. This gift box is a curated collection of swoon-worthy items that will woo even the most discerning recipient. This product is not available to ship. Gift box includes the following:
1 bottle 2013 Mineral Springs Blanc de Blanc
1 bottle 2016 Mineral Springs Brut Rosé
2 oz jar of trout roe
Crème fraîche
Artisan crackers
Chef Sara's homemade chocolate hazelnut spread (our version of Nutella made with local hazelnuts of course!)
Truly Kindred 8oz soy candle, Noir scent | red currant and amber matched with musk and delicate floral undertones of jasmine, rose and geranium; comes in 100% recyclable glass jar; hand poured in Portland, OR
Bouquet of flowers, designed by our resident floral expert, Jamie Kotler
*Includes complimentary home delivery or pick-up at Mineral Springs Ranch on Saturday, February 13th. All orders must be in by Monday, February 8th.