Volume Limit for Oregon | (5) cases or equivalent volume per individual per month.
For personal assistance please contact our team at 503-662-5600.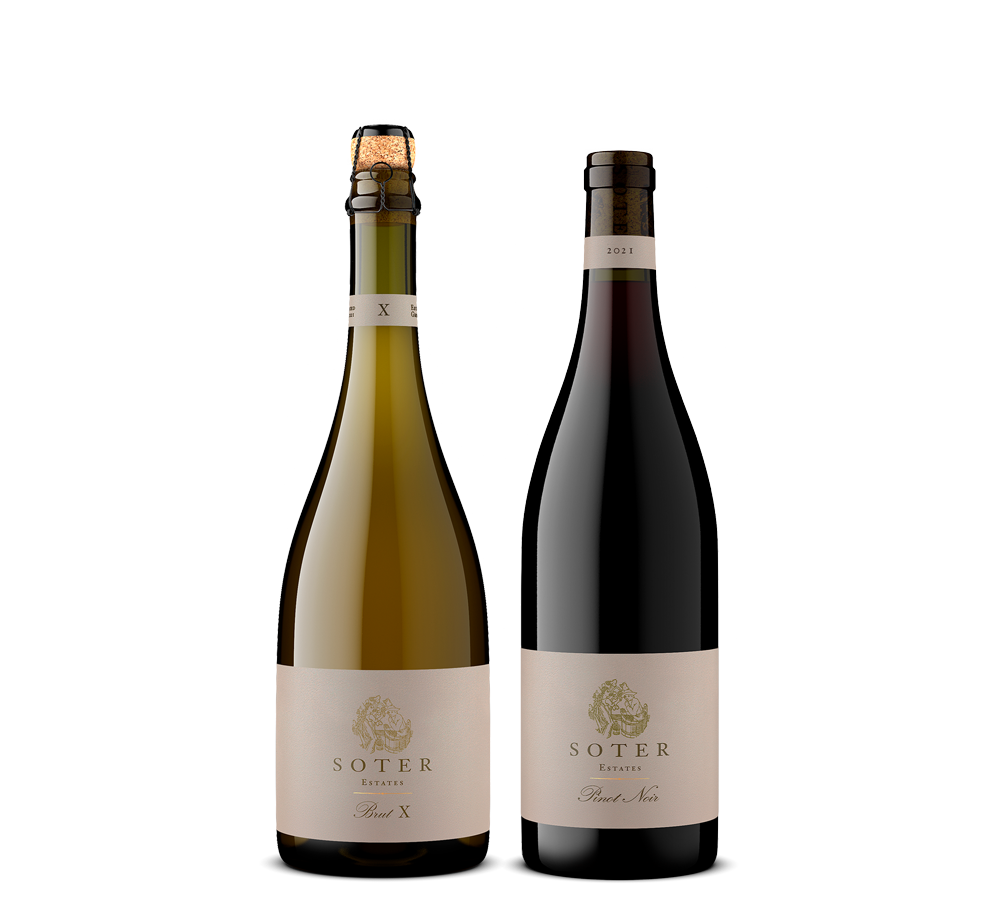 Soter Estates
A delectable duo of wines, perfect to match any occasion.
This package includes the following wines:
(1) 2021 Soter Estates Pinot Noir - $60 / 94 Points, Wine Spectator
(1) 2018 Soter Estates Brut X -$65 / 96 Points, Wine Enthusiast
Gift box and customized card - $15
Click HERE to add a Soter wood and metal wine opener to this package (+$25)
Click HERE to add a Soter sparkling wine stopper to this package (+$7)
Wines from our Estates portfolio are comprised of grapes grown at all three of our estate vineyards located in the best nested appellations of the Willamette Valley. The vineyard blends for these bottlings are not formulaic and will vary depending on ripeness, yields, quality, and the flavor profiles of each site. The 2021 Pinot Noir is darkly colored and concentrated, with flavors of marionberry and blueberry. Delicate aromatics lift out of the glass and tease of violets and herbs. The 2nd Edition of our Multi-Vintage Brut X has a delicate nose with hints of hay and almond. While half of this wine is from the 2018 vintage, the remainder is made up of reserve wines, selected from both the 2017 and 2015 vintages. These aged reserve wines contribute complexity and add texture to the wine, complementing the core of fresh fruit and acid. The mousse is persistent and carries classic yellow apple, lemon curd and biscuit flavors through a dry, quenching finish. Expect these wines to age gorgeously.
Gift sets will ship individually in a custom gift box. When placing your order, please be sure to check the box 'Add a gift message or special instructions' and we will include a card with your message. Contact us at 503.662.5600 if you prefer to ship multiple sets and/or other bottles together in standard packaging (more cost effective shipping).