Volume Limit for Oregon | (5) cases or equivalent volume per individual per month.
For personal assistance please contact our team at 503-662-5600.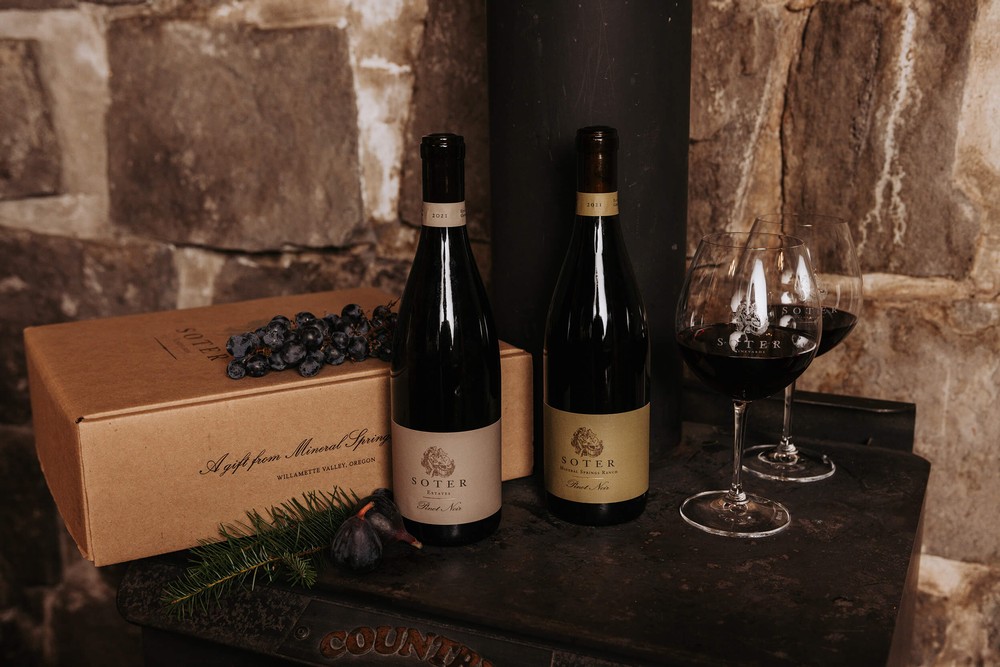 Provisions Package
The perfect gift for the cook in your life, this duo of Pinot Noirs includes a beechwood pasta board, Opinel paring knife and recipe for pecan cavatelli.
This package includes the following items:
(1) 2021 Soter Vineyards Estates Pinot Noir | $60 ea / 94 Points, Wine Spectator
(1) 2021 Mineral Springs Ranch Pinot Noir | $80 ea / 94 Points, Wine Enthusiast
(1) Beechwood Cavatelli Board and dowel, made in Italy
(1) Opinel Paring Knife, made in France
(1) Cavatelli Recipe Card
Gift box and customized card included

Click HERE to add a Soter wood and metal wine key to this package (+$25)
Show a home cook in your life how deep your appreciation runs with a scrumptious gift. This package features two bottles of our most popular Pinots, the 2021 Mineral Springs Ranch Pinot Noir and the 2021 Estates Pinot Noir, alongside the quality tools needed to make a perfect meal: a beechwood cavatelli board and Opinel paring knife. Includes a recipe card for heartwarming and delicious pecan cavatelli from Soter Vineyards' Chef Clayton Allen.
Gift sets will ship individually in a custom gift box. When placing your order, please be sure to check the box 'Add a gift message or special instructions' and we will include a card with your message. Contact us at 503.662.5600 if you prefer to ship multiple sets and/or other bottles together in standard packaging (more cost effective shipping).