Volume Limit for Oregon | (5) cases or equivalent volume per individual per month.
For personal assistance please contact our team at 503-662-5600.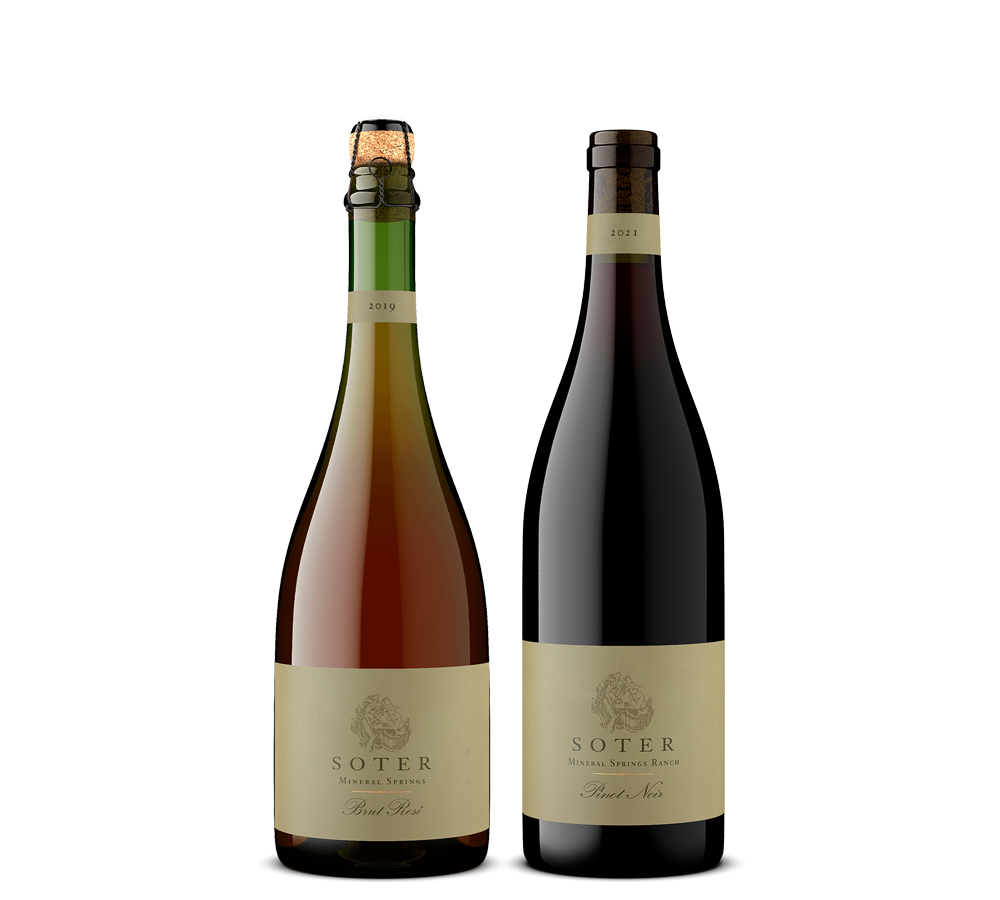 Mineral Springs Traditions
These two wines are the flag-bearers of our home estate and vineyard, Mineral Springs Ranch.
This package includes the folliwing wines:
(1) 2019 Soter Vineyards Mineral Springs Brut Rosé - $75 ea / 94 Points, Wine Enthusiast
(1) 2021 Soter Vineyards Mineral Springs Ranch Pinot Noir - $80 ea / 95 Points, Wine Enthusiast
Gift box and customized card - $15

Click HERE to add a Soter sparkling wine stopper to this package (+$7)
Click HERE to add a Soter wood and metal wine key to this package (+$25)
Bring our flagship wines home with these selections from Mineral Springs Ranch, our 240-acre Biodynamic farm and vineyard. The 2021 MSR Pinot Noir fully expresses its singular place of origin with impressive balance and captivating notes of red fruit, lavender, and cola spice. Our 2019 Brut Rosé is a complex blend of Pinot Noir (80%) and Chardonnay (20%), resulting in an intricate sparkling wine with multifaceted flavors. This duo is sure to impress even the most discerning palate.
Gift sets will ship individually in a custom gift box. When placing your order, please be sure to check the box 'Add a gift message or special instructions' and we will include a card with your message. Contact us at 503.662.5600 if you prefer to ship multiple sets and/or other bottles together in standard packaging (more cost effective shipping).