Volume Limit for Oregon | (5) cases or equivalent volume per individual per month.
For personal assistance please contact our team at 503-662-5600.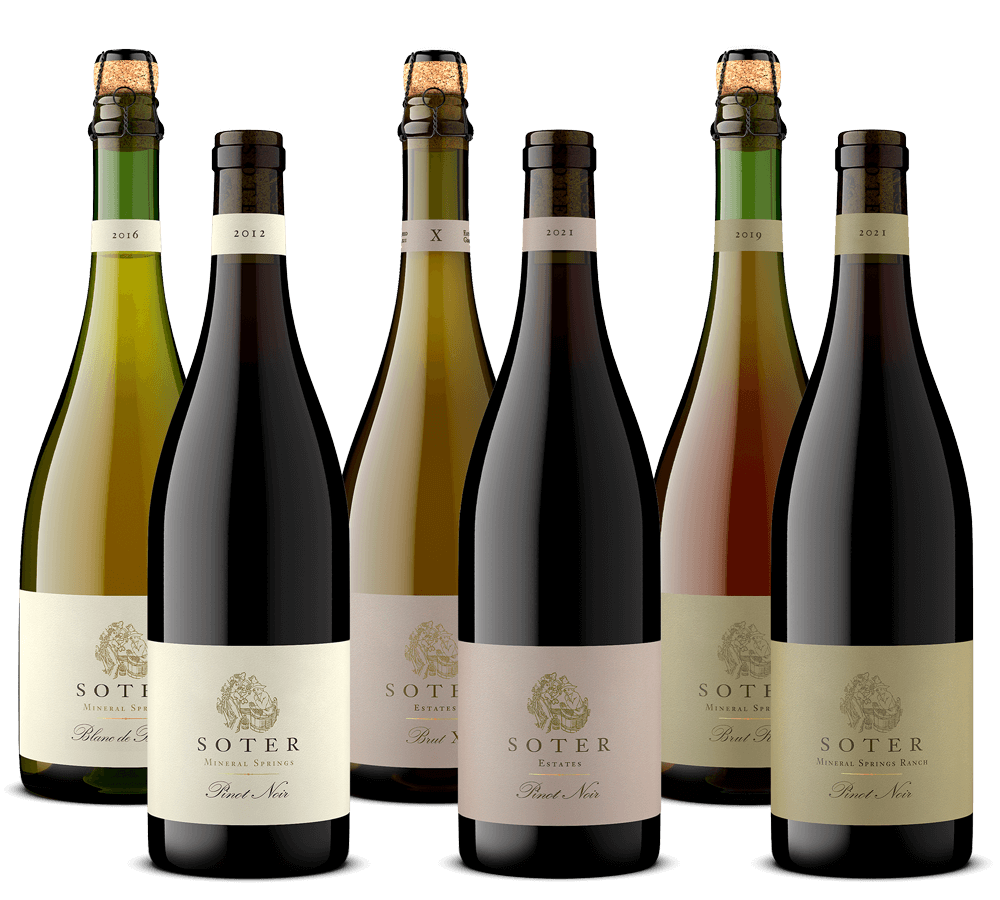 MSR Anthology
A collection of our most coveted wines. Perfect for the collector on your list
This package includes the following wines:

(1) Multi-Vintage Soter Estates Brut X - $65 ea / 96 Points, Wine Enthusiast
(1) 2019 Soter Vineyards Mineral Springs Brut Rosé - $75 ea / 95 Points, Wine Enthusiast
(1) 2016 Soter Vineyards Mineral Springs Blanc de Blancs - $120 ea / 96 Points, Paul Gregutt
(1) 2021 Soter Estates Pinot Noir - $60 ea / 94 Points, Wine Spectator
(1) 2021 Soter Vineyards Mineral Springs Ranch Pinot Noir - $80 ea / 94 Points, Wine Enthusiast
(1) 2012 Soter Vineyards Mineral Springs White Label Pinot Noir - $150 ea / Library Selection - *Only available to purchase as part of this package until 11/11/23

Click HERE to add a Soter wood and metal wine opener to this package (+$25)
Click HERE to add a Soter sparkling wine stopper to this package (+7)


A truly impressive selection of wines meant for the avid enthusiast. These wines reflect the unique climate, ancient marine soils, and winemaking traditions found only at Mineral Springs Vineyard. Savor these six wines, a varied selection of Pinot Noir and sparkling, which also represent a blend of recent releases and a limited library selection. They are layered, nuanced, and captivating - fully expressing their place of origin in the heart of Oregon's Wine Country.
When placing your order, please be sure to check the box 'Add a gift message or special instructions' and we will include a card with your message.
This gift set ships in standard 6-bottle shipping packaging.
Contact us at 503.662.5600 for assistance purchasing multiple gift sets.